New interview with Valter where he talks about his upcoming film,
IRL (In Real Life)
, and being part of a famous family.
Not the best Google translation:
Happy Jankell, Valter Skarsgård and Alba August: People see only the last name
THE KNOWN PARENTS Happy Jankell, Valter Skarsgård and Alba August currently playing in the movie "IRL"."They are the perfect mix of professional and pristine actor," says director ErikLeijonborg.
Parents already belongs to an actor little - now the kids movie together
Skarsgard, Jankell and August.
Celebrity children attend their parents' footsteps but are struggling to create their own first impressions.
- The first thing they see is my last name, says Valter Skarsgård.
Elijah live in darkness, everywhere he is hated and bullied. Then he runs into an online game where he is an invincible warrior. Along with the beautiful Scarlet conquers him the digital world. Everything goes well until the Scarlet want to meet in real life.
Where we dive into the filming of "IRL". Sergel Square in Stockholm bathed in sunshine and everyday bustle when Elias, played by Valter Skarsgård , 17, steps out from the Central Station. Passers-by stop to look curiously when he's looking for Scarlet.
My father Stellan became a teen idol in "Bombi Bitt and Me" the age of 17 and has long been a Hollywood veteran. His brother Alexander has been recognized by the U.S. television series "True Blood" Bill's film "The Wedding Date" was Sweden's Oscar Grant last year. With the last name Valter Skarsgård is used to attention. He is the youngest of a large number of sons of actor Stellan and have grown up in big films.
"It is always seen"
- It has been difficult to know that you are always so viewed, he said. First day of school, everyone knew who I was. Of course its a shame not to make your own first impressions of the people, the first thing they see is my last name, says Valter.
In the United States becomes a celebrity more significantly.
- Where are the paparazzi taking pictures in the street. It can be hard when they do not give themselves when they are in and follow. My brothers and sisters just ignore them.
Friends previously
In the "IRL" he plays his first starring role on Happy Jankell and Alba August , both 18 years old. Happy has made ​​several films, including "A thousand times stronger" from 2010. Alba August was in "A Song for Martin" was seven.
The girls have known each other several years of evening classes in musical theater, Valter they came to know during the test filmningarna. Already, they have a warm chemistry that can not be mistaken. In between the scenes hug them and dance with each other over the black and white plates.
- I like them very much. We have a wonderful time together, says Valter.
The director Erik Leijonborg ("A Thousand Brothers") lavishes praise on his actors.
- They are the perfect mix of professional and pristine actor, he says.
Roy support
For Alba is the mother Pernilla August a great support when she needs help with acting.
- While it may be tough to always be related to their parents. It is always a daughter, not Alba, she says.
Happy have followed dad Thorsten Flinck with acting and mother Annika Jankell with the dance.
- In the ballet, I am a thousand times better than her, she says. To inspire is the main characteristic of a parent can have. It has been my parents managed to do.
Valter Skarsgård plays a scene in Sergel Square.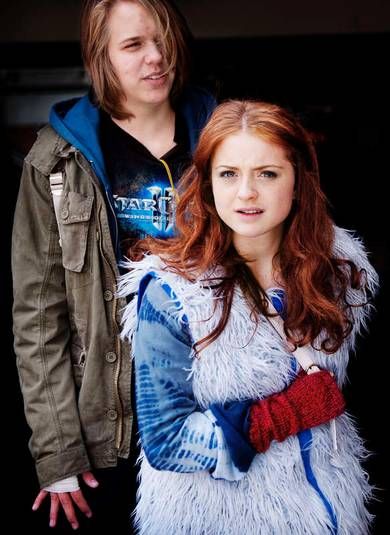 Valter and Happy do not want their last names to get in the way of their careers.
Side blurb at the end of the article:
Will get a new Skarsgard Brother
Name: Valter Skarsgård.
Age:
17th
Occupation:
Student.
Family:
Dad Stellan, Mom My, siblings Alexander, Gustaf, Sam, Bill and big sister Eija, Ossian, and yet another on the way. Roles in the selection: "Arn - The Kingdom at Road end "(2008)," Details "(2003).
Future Plan:
For Valter Skarsgård are two choices: acting or music. Electric guitar is at home waiting.
Role model:
"Heath Ledger was crazy good in Dark Knight. Robert Downey Jr.. is also a good actor. "
Source:
http://www.aftonbladet.se/nojesbladet/f ... 4715929.ab